BK-2R hydraulic brake sensor
0
stars, based on
0
reviews
Price:
$15.00$12.00 / piece
brake sensor

2 pin common cable BK-2R
3 pins waterproof cable BK-2R
Wholesale Price:

| | |
| --- | --- |
| Quantity | Price |
| 2+ | $10.80 |
| 10+ | $9.00 |
| 50+ | $4.80 |
Item specifics
Brake sensor:
Front brake sensor,Rear brake sensor
Cable Type :
3pin 400mm,Customization
Connecter Type:
SM3,Customized
Compatible Brake Cable:
1.5mm-1.8mm
Size(L*W*H):
36mm*12mm*16mm
1. Description
MS-BK-2R is a new type of brake power-off products. It has a small size, easy installation, wide application and so on. Applicable to hydraulic brake, disc brake, V brake, drum brake and roller brake of any kind of brake in the form of electric bicycle modified. The mounting position is located at the brake.

2.Technical Parameters
Model: MS-BK-2R
Output: switch quantity
Action status: NC (NO customizable)
Switching voltage: 175VDC MAX
Switching power: 5W MAX
Detection of objects: magnetic metal
Cutter size (L * W * H): 26mm * 11mm * 8
Magnet size (D * d * S): 10mm * 4mm * 3mm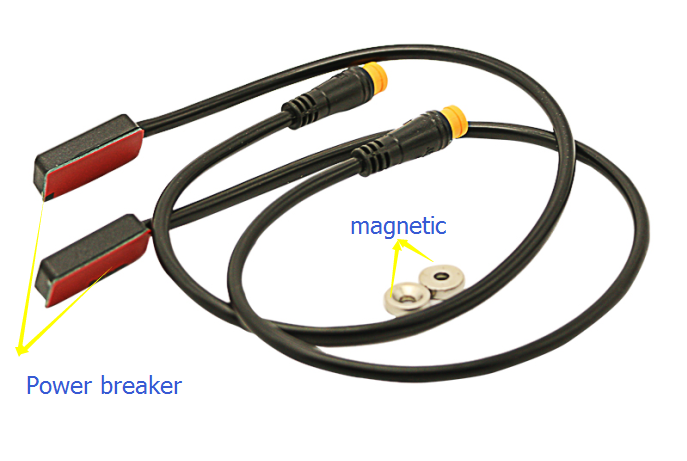 3. Cable
Cable Type: RVV 2 * 0.2
Standard cable length: 1m
Standard Connector Type: SM2A
* Cables and connectors can be customized

4.Install instruction
(1) installation of magnet
Magnet should be attached to the brake parts on the moving parts, paste the position as close as possible to the brake fixed part.

(2) to determine the installation location of the circuit breaker
The switch leads to the multimeter and the black and white, the multimeter switches to the resistance, and the breaker device moves back and forth on the fixed part of the brake to find the critical position to change the resistance from "∞" to "0". Knead the brakes, observe whether the resistance from "0" jump to "∞", release the brakes, observe whether the resistance from "∞" back to "0", if it is, the location of the breaker device to determine.
Notice:
A. The above description is the action state for the conventional NC power brake.
B. The operating state is NO of the power brake, the resistance change state and the NC power brake is the opposite

(3) Install the circuit breaker
The switch is attached to the position defined on the brake fastening member and connected to the controller.

packing list:
Breaker * 1, Magnet * 1, Stickers * 2